GE Trans:
German to English Translation
---
Click here to download the latest version
v1.6
(Only 2.0 Mb)
(For Win95/98/ME/NT/2000/XP/Vista)
- German to English language translation software - FAST -
What is GE Trans? -This program specializes in translating German texts into English, but can also help in translating individual English words into German. With a translation database exceeding 225,000 German words, including many scientific and technical terms, GE Trans produces draft translations which can be readily polished into a finished translation, or simply used as a reference. You can easily modify entries in the database, or add your own new translations. You can edit your text with many formatting commands and preserve the text style and format during translation. Use a hotkey to translate selected German text directly from your word-processor.

Ideal companions for this program are the searchable Köhler German-English dictionary as well as the Muret-Sanders Encyclopaedic German to English Dictionary. (both available on CD-Rom)
- Free Upgrades -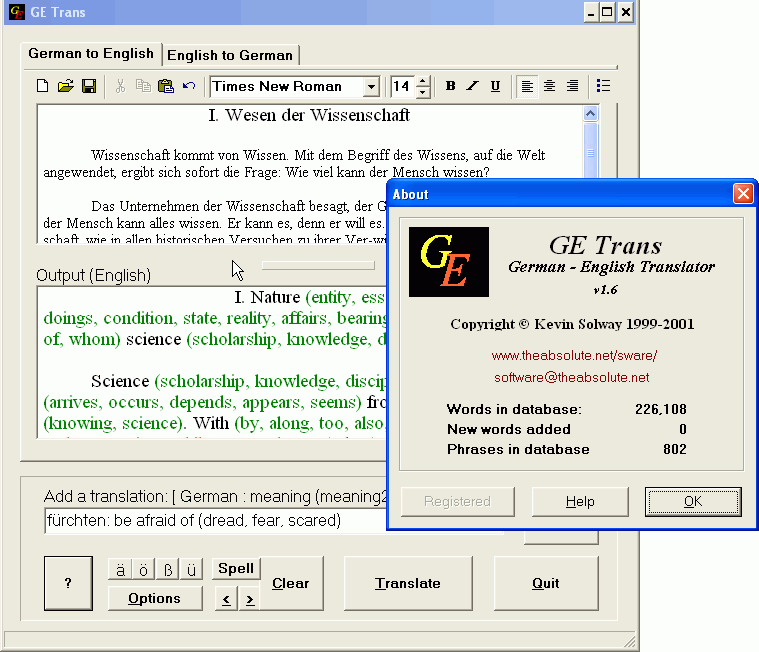 Cost: $25
(was $35)

Ordering GETrans German to English translator:


INTERNET ORDERS

Fill out the secure online order form at NorthStar Solutions.

PHONED ORDERS

Calls are taken 9am-7pm, CST, Monday-Friday

800 699-6395 (From the U.S. only.)
785 539-3731

Ask for "GE Trans German to English Translator", Product Number 3698

FAXED ORDERS

Available 24 hours.
785 539-3743

E-MAILED ORDERS

Internet: starmail@nstarsolutions.com
CompuServe: starmail
America Online: starmail

MAILED ORDERS

You may register with credit card, check, or money order.

Make any checks payable to NorthStar Solutions and send to:

1228 Westloop Pl, Suite 204
Manhattan, KS 66502
USA

Please provide (or be prepared to provide) the following information:

The program you are registering (GETrans - Product Number 3698).
Your mailing address.
Your Visa, MasterCard, or Discover # and its expiration date (if using credit card).
Your E-Mail address (so NorthStar Solutions can send you an E-Mail confirming your order and so I can contact you easily with any important follow-up information, upgrade announcements, etc.).
---
See also Köhler German to English Dictionary (on CD-Rom)
Kevin Solway: e-mail: software@theabsolute.net